Round Games for All Parties : a Collection of the Greatest Variety of Family Amusements for Fireside or Pic-Nic : Consisting of Games of Action, Games Simply Taxing the Attention, Games of Memory, Catch Games Depending on the Assistance of an Accomplice or Secret Knowledge for the Purpose of Mystification, Games Requiring the Exercise of Fancy, Intelligence, and Imagination, Directions for the Crying of Forfeits, &c. &c. : for the Use of Old and Young, and Adapted to the Understandings of Children from the Age of Seven to Seventy. London: David Bogue, 86, Fleet Street, 1854.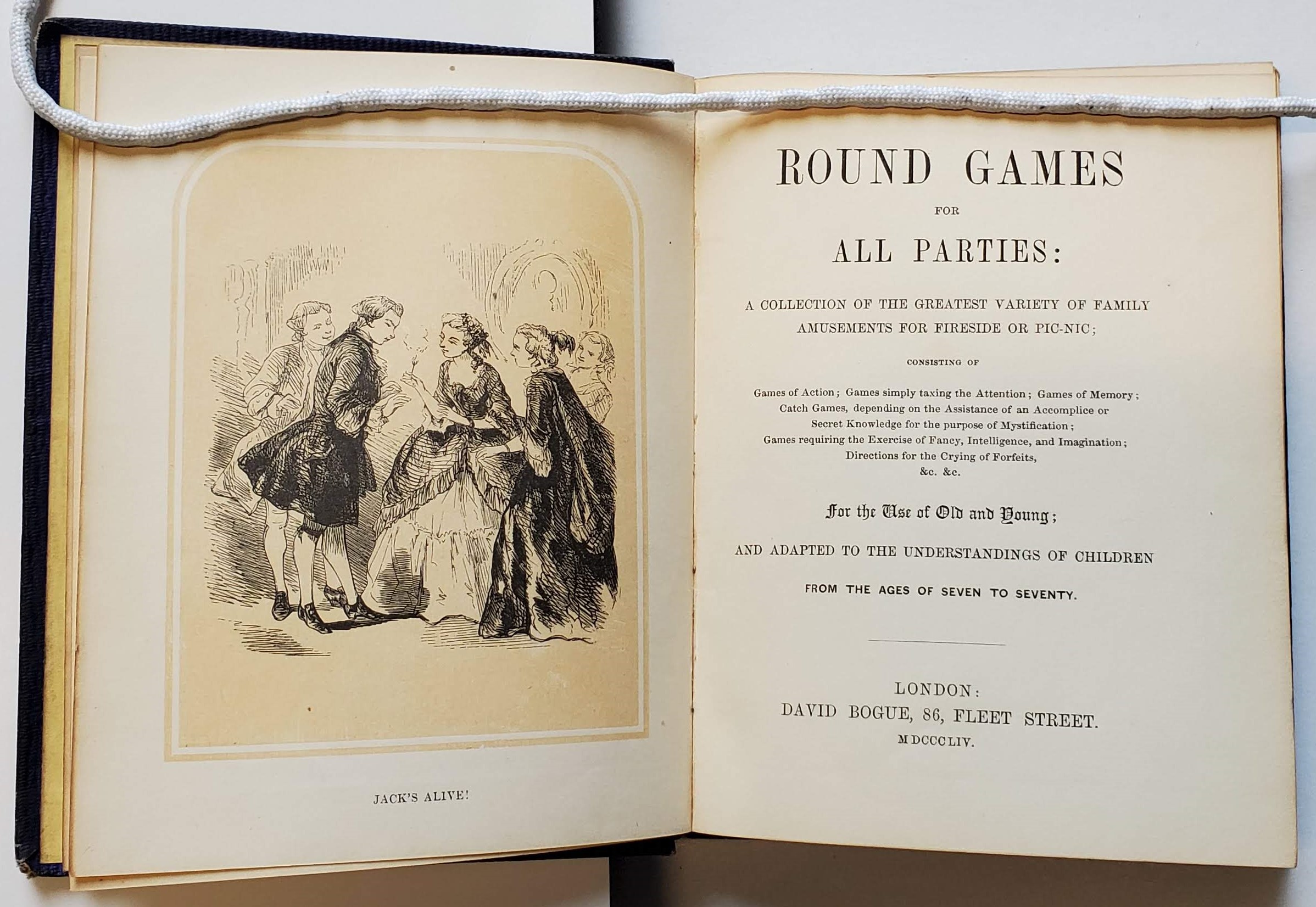 This book outlines a variety of 'round games' (games for four or more with no teams) that can be played by groups of all ages. They include action, memory, and attention games, for example, "Jack's Alive!" as illustrated on the frontispiece:
The players pass from one to another a lighted match or twist of paper, of which the flame has been blown out, saying (as they present it), "Jack's alive!"
The player in whose hands the last spark dies out pays a forfeit; for which reason, when "Jack" appears in a tolerably lively condition you do not hurry yourself to give it up. When, on the contrary the sparks seem inclined to die out you lose no time in handing it to your neighbour, who is bound to receive it directly you have pronounced the requisite words.
This very simple game affords considerable amusement without the least degree of taxing the intellectual resources of the players.
If you ever have a rainy day with a group of friends, these games may prove useful. Be forewarned though, most of the possible forfeits in this book involve kissing other players.
Also important in this book is a bookplate. A bookplate, also called an ex libris (literally "from the books"), is a label pasted into a book that indicates past ownership. If a book was owned by an important figure that may be a reason to acquire it, instead of just acquiring it for its content. In this case the bookplate indicates that this copy of Round Games was owned by the Duchess of Cleveland in 1901. The Duchess of Cleveland at that time was Wilhelmina Powlett née Stanhope, a genealogist and historian who acted as a maid of honour at Queen Victoria's coronation, and as a bridesmaid at her wedding to Prince Albert. Whether an important figure or not, bookplates allow us to trace the history of a book from its publication to its current home at ASC.
Catalogue record: 18404
Britton, John. The History and Antiquities of the Metropolitical Church of York : Illustrated by a Series of Engravings, of Views, Elevations, Plans and Details of the Architecture of That Edifice: With Biographical Anecdotes of the Archbishops. London: Published by Longman, Hurst, Rees, Orme, and Brown, Paternoster Row, 1819.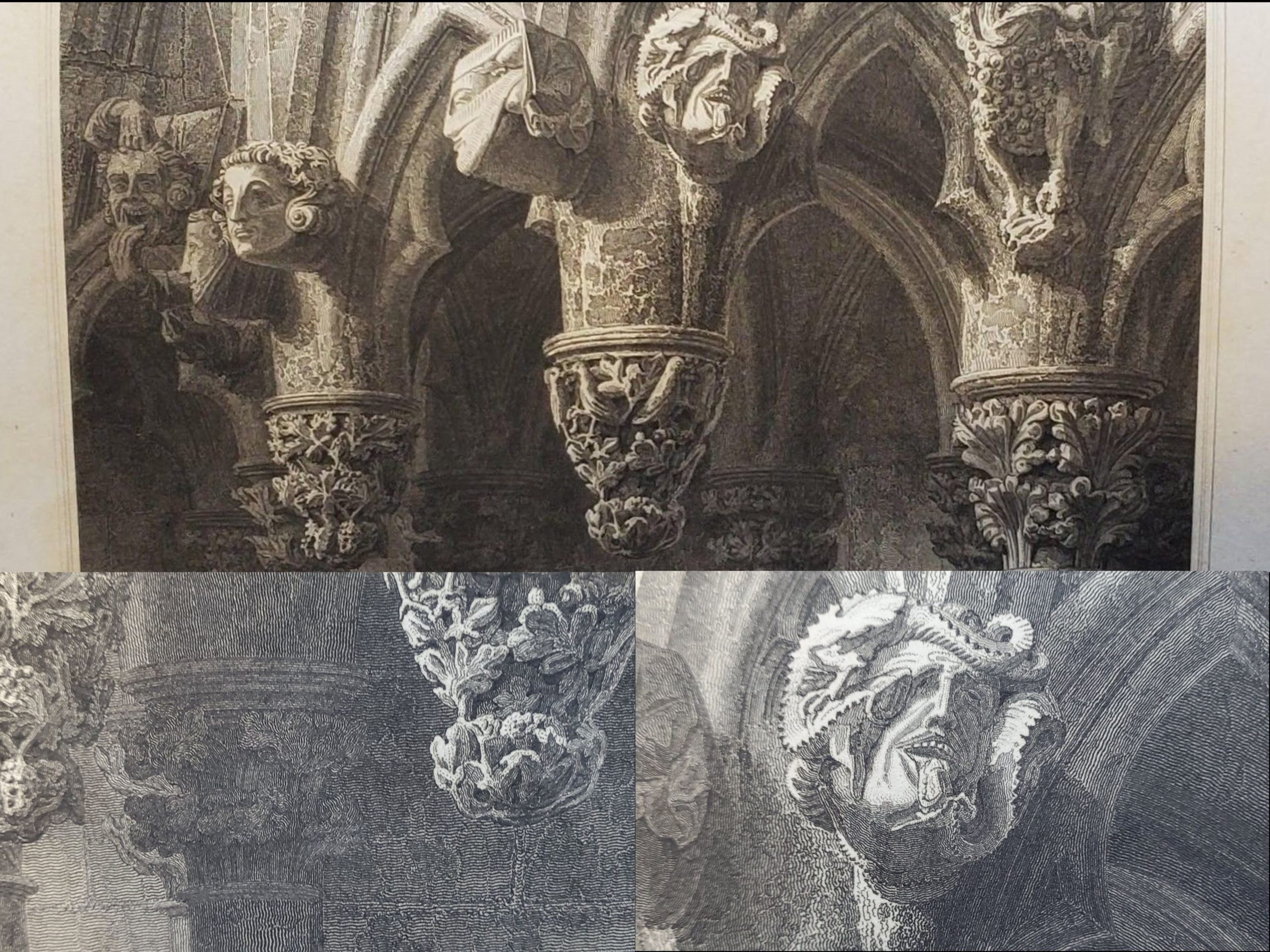 This work is part of a multi-volume set detailing the history and architecture of different cathedrals in England, in this case York Minster. It is profusely illustrated with plates. Plates simply refers to illustrations or photographs that have been printed separately from the main text but bound together with it. In this book, the work of twelve engravers brought the work of four artists to life in 34 plates. Much like the etching described last month, engraving is an intaglio process, which means the image is incised onto a metal surface. Using a burin, the engraver will carve out areas they wish to contain ink and once the image is complete ink is wiped across the metal surface, going into the carved lines, before excess ink is wiped away and the plate is sent through a rolling press. Works could have a combination of etchings and engravings in them, as is the case with this work, and the different techniques could even be used within the same image.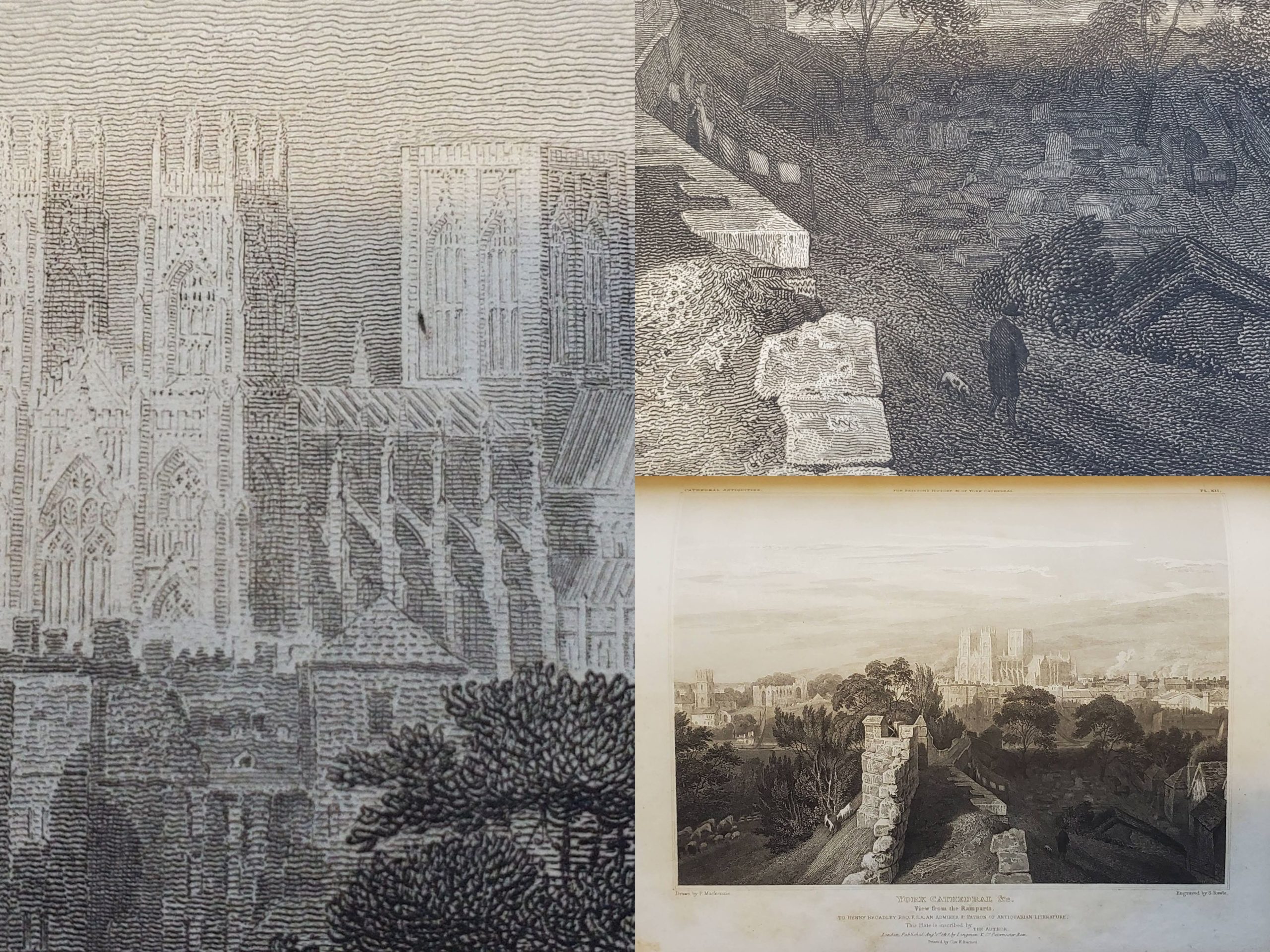 I chose to highlight this book because I was in awe of the skill used by these engravers to create such depth and light with only incised lines. To create shadow, engravers would incise thicker lines closer together as well as employ cross-hatching, while light was made when lines were far apart and made with less pressure. With just these techniques artists and engravers recreated the intricacies of York Minster's stonework, but also the surrounding landscape, and even the clouds in the sky.
Catalogue record: 18434
Doran, (John). London in the Jacobite Times. London: Richard Bentley & Son, New Burlington Street Publishers in Ordinary to Her Majesty the Queen, 1877.
These volumes, as the title suggests, cover the history of London from 1724 to the reign of Queen Victoria. It focuses on Jacobitism, the movement to restore the Catholic James II and later his son James Francis Edward Stuart to the throne after the exile of James II. Interestingly, at the back of the fourth volume there are two other works, published more than 50 years earlier, during the coronation of King George IV of the United Kingdom in 1821. The first details the history of the coronation regalia and the second outlines the ceremonies and procession of the coronation. But how did these three works get bound together?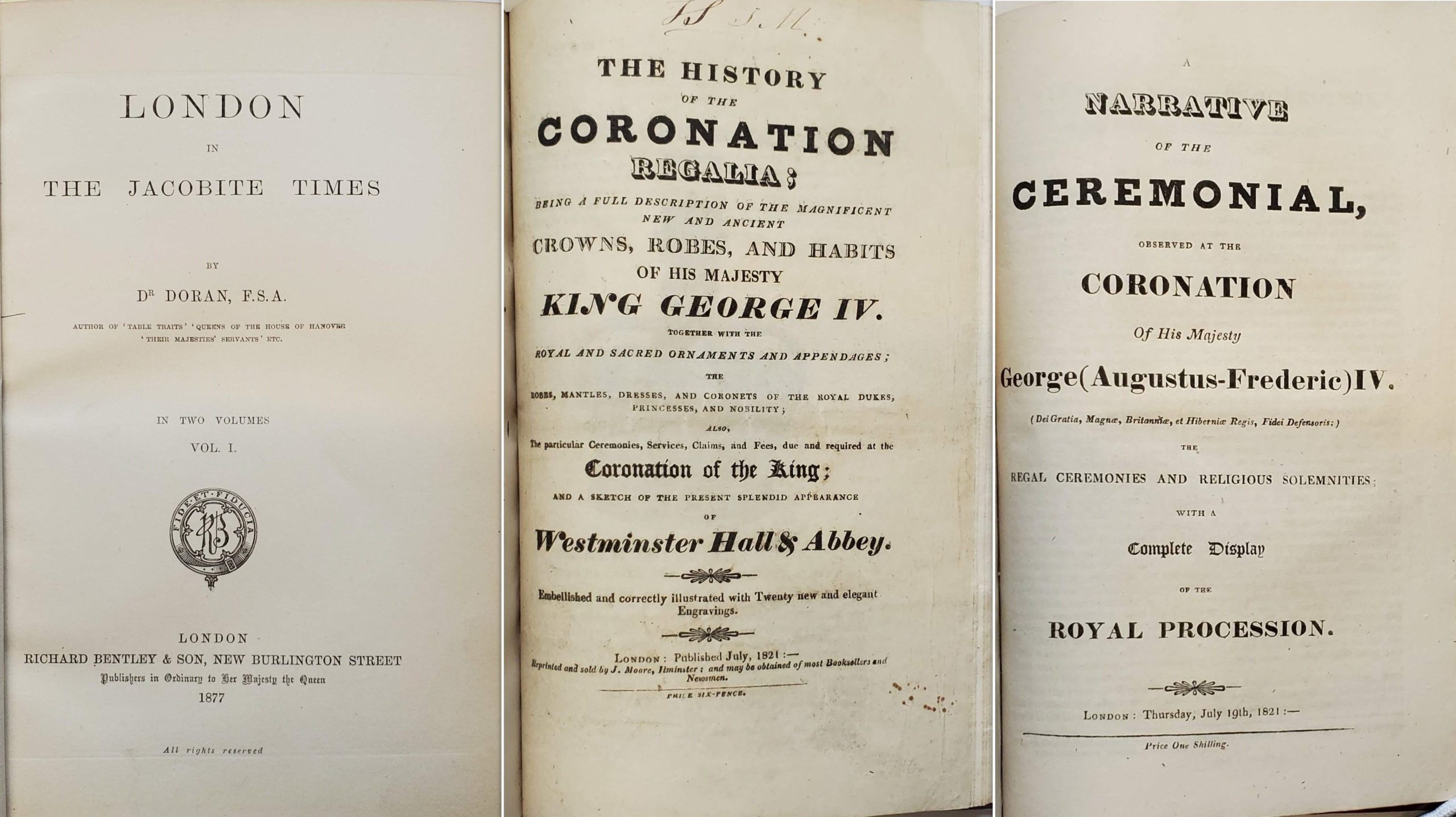 When we buy books today they are already bound and ready for reading. This wasn't always the case. During the hand-press era (1500-1800) when books had to have their type set and pages printed by hand, books were not issued in bindings like we see today. Instead they were sold unbound, or with a simple cover, typically paper, loosely attached so that it could be removed later. Books from that time period can sometimes still be bought with those temporary bindings. However, more commonly the buyer would take the book to a bind to have a binding specially made. Therefore books from this period have an incredible variety of bindings that differ based on the time period, the cost, the place, and the buyer's personal choice. This also helps explain why bindings are often their own area of study for researchers, and why books that were not originally printed together could get bound together later. In the study of rare books, these types of items are called sammelbands. A compound of the German sammeln "to collect" and band "volume", this term describes books which contain separately published works that have been bound together later. Separate from when multiple books are issued together by a publisher, sammelbands are also sometimes called bound with books. Now that cataloguing is computer based, cataloguers are able to link records together so that researchers can easily see information on the books that were bound together.
In this example all three books were printed just after the hand press era, but publishers' bindings were still in their early stages and were not yet being made with the high production value later associated with them. It is also possible that, even if these works were issued in publishers' bindings, the buyer  removed the binding to have them rebound. This could have been for ease of reference, or because four books would have been much cheaper to bind than six as binding was the most expensive part of book production. Whatever the case, sammelbands offer insight into how a particular person grouped information for themselves. We see how a particular narrative might be emphasized by a grouping of pamphlets on religion, politics, or history, or what a student was studying by the books they required for reading. Sammelbands are yet another way in which we can see personal traces of past owners in the books in our collection.
Catalogue record: 18424
Baskett, Thomas. The Holy Bible, : Containing The Old and New Testaments : Newly Translated Out of the Original Tongues, and with the Former Translations Diligently Compared and Revised. Oxford [England]: Printed by Thomas Baskett, Printer to the University., 1756.
Bibles are often collected as they are frequent points of study. Researchers may compare different editions to see how they change over time, between languages, or even between publishers. However, the primary reason this bible was acquired was because of its binding.
Known as a Scottish wheel binding, it is one of the two most famous and distinctive binding styles to come out of Scotland. It and the herringbone style were popular in 1725, beginning their decline in the 1770s, but were used up until the early 19th century. Derived from earlier European 'fan' bindings, the wheel in the centre was made with a small tool, the rim of the wheel is then scalloped and the rest of the cover is filled with other decorations, in this case with leaves and flowers. It was common to bind bibles in Scotland with one of these styles and to bind them in two volumes, as is the case with this example.
This book is also a sammelband, with The Psalms of David in metre bound in with the second volume. This was common at the time as the psalms were used in church, and as such the second volumes of these bibles are often in poorer condition. However that is not the case with our copy. While both volumes are worn, it is the first volume that has slightly more wear on the covers.
Catalogue record: MIN 0203
The Way to Get and to Save Wealth, or, The Sure Method to Live Well in the World : Being the Pleasant Art of Money-Getting : ... to Which Is Added, the Way How to Turn a Penny : or, The Art of Thriving ... London: Printed and sold by J. Bailey, 116, Chancery Lane, n.d.
This short work informs readers on the origins of money, how to acquire it, and how to save it. Its perspective that the want of money only leads to misery is emphasized by the book's frontispiece. A frontispiece is an illustration that faces the title page, and is this case the frontispiece is hand-coloured.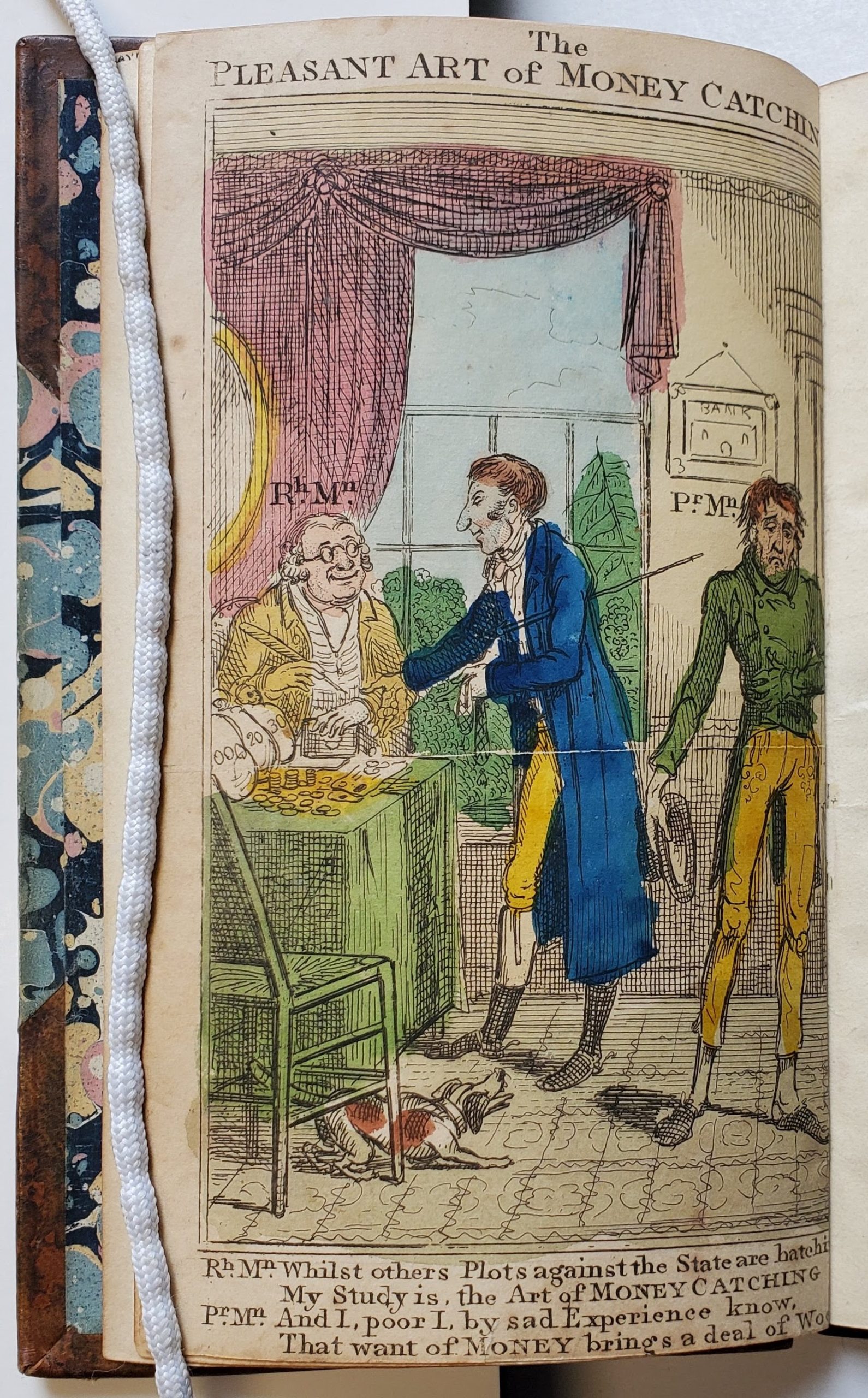 Hand-coloured illustrations have been a part of the printing process since printing began and continued even after printing in colour started later in the 19th century. Popular in works of natural history, hand-colouring allowed for an accurate visual representation of what previously could only be described in words. The first zoological prints were hand-coloured by the wives and children of the author. By the mid-19th century the demand became too high for a single family to keep up so printers began to set up their own teams of colourists or send the prints out to multiple families who specialized in colouring illustrations. Skill varied widely across colourists, children were often given less precise background colours, while detailed work, or work meant for an important client, were done by skilled painters, male or female.
To colour a plate, colourists could either colour one entire print at a time, or shade a single colour on multiple prints before moving to the next colour. This second method was faster and more frequently used, especially when colouring was done by a group. Like an assembly line, a colourist would be assigned a pigment to colour on the same area of multiple prints, and from lightest to darkest the colours would be applied.
This hand-coloured print was likely also created via this process, with what look like quick washes of colour over the correct areas. For example, the men have their faces painted with a skin colour, but their hands are either left unpainted or painted with the colour of whatever they are in front of. The man on the right and the man sitting have one hand painted the same colour as their jacket. The background colours also appear to be painted quickly with both the pink of the drapes and the green of the tablecloth going outside the lines. The money is painted as a single yellow circle rather than each coin individually, and the dog, while given spots, does not have colour on its legs or head. All their indicators point to a colouring meant to add value to the work. For researchers and collectors it also adds a unique element that even if you had multiple copies of the same print, not two will be the same. It also provides valuable evidence of women and children's work in the eighteenth and nineteenth centuries. While we might not have their perspectives written down, we have their finished products as evidence of their labour.
Catalogue record: 18308
Written by Taylor Tryburski