Another month has come and gone and that means another month of Special Collection highlights! Please enjoy learning about some of ASC's newest acquisitions.
Vimy Memorial Dedication Collection
Canada is known  for its assault at Vimy. It is seen as a moment when Canada emerged as a nation. All four divisions of the Canadian Corps fought together for the first time, advancing behind a "creeping barrage" beginning on April 9, 1917 and overcoming the final German positions by April 12th. More than 15 000 Canadian infantry took part in the assault, but 3 598 Canadians lost their lives, and a further 7 000 were wounded. In 1922 the French government granted Canada 290 acres of land on Vimy Ridge.
Fourteen years later, and eleven years after construction began, the Canadian National Vimy Memorial  was dedicated on July 26th 1936. It was done in front of a huge gathering of over 100 000 Canadians, French, and British citizens. Included in these numbers were approximately 8 000 Canadian veterans in addition to family members of both surviving and deceased veterans. Many attended with their trip paid for by the Canadian Legion, who sponsored a pilgrimage to the site and other French battlefields as well as dinners in France and London. This dedication was one of the few official engagements King Edward VIII participated in before his abdication.
As Vimy Ridge Day approaches this Saturday, it is fitting to highlight a recent acquisition containing a collection of items related to the dedication and associated events. The unknown traveler took the R.M.S. Ascania to Europe in July 1936, presumably attended both the Vimy Memorial dedication as well as other battlefield tours and Canadian Legion dinners. Finally, they took the R.M.S. Alaunia back in September of the same year. In this acquisition there there is a guidebook, supplement, and updated information pamphlet on Vimy and its memorial, as well of information on other battlefields. There are also items from the voyage to and from France including a passenger list for the R.M.S. Ascania and ephemeral items: a postcard, menu, dining room reservation, and blank letter card. Finally, there are ephemeral items related to Canadian Legion events in Europe in August 1936 consisting of a programme, membership certificate, invitation and menus. Ephemera can be defined as transitory items created and meant to be kept for only a short period of time, things created during everyday life that we often do not keep once they have served their purpose.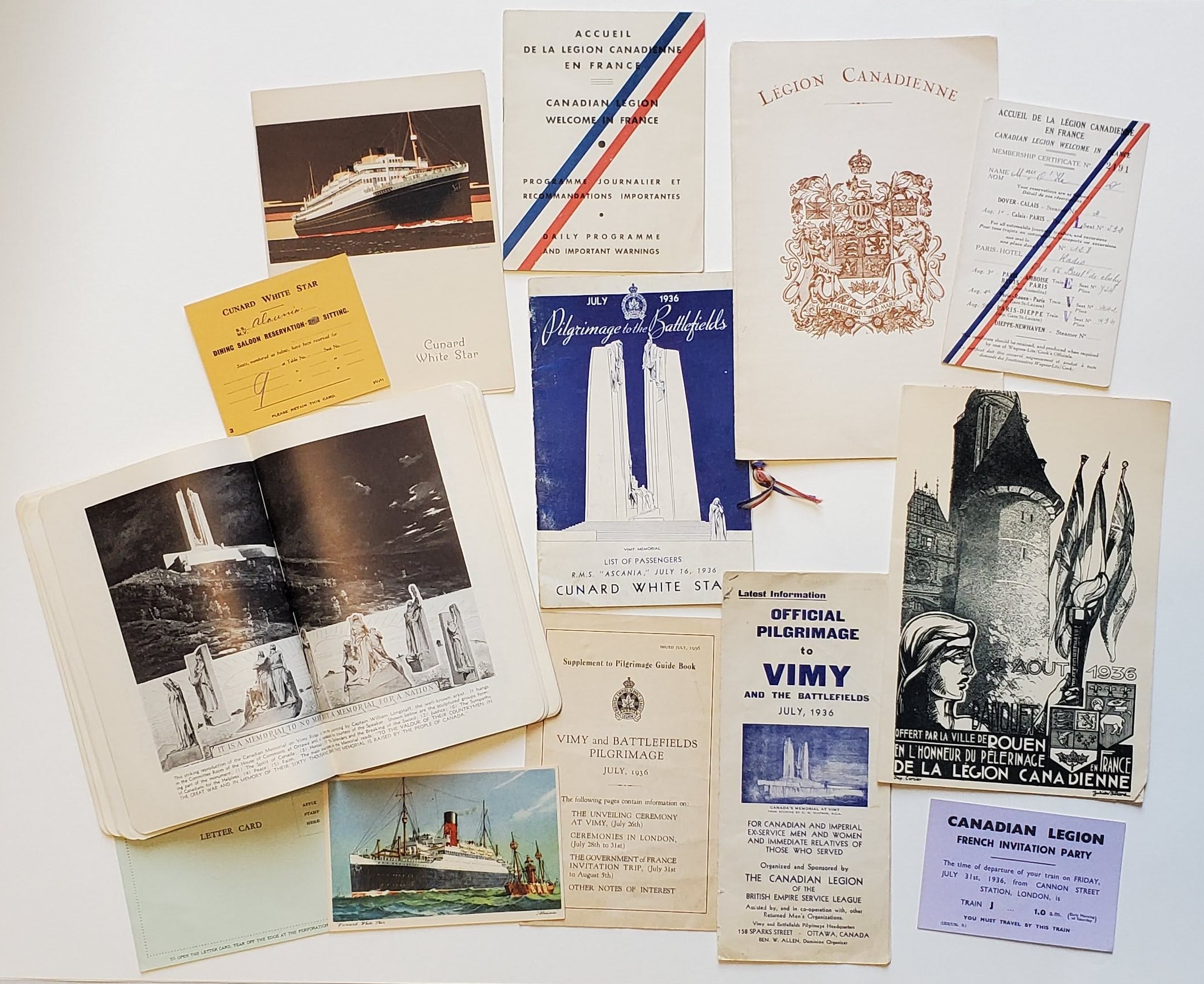 There are a total of thirteen items in this collection ranging from CPC 1936 0109-CPC 1936 0121. They are as follows:
Hundevad, John, ed. Guide Book of the Pilgrimage to Vimy and the Battlefields, July-August 1936. Ottawa: Published on behalf of the Vimy Pilgrimage Committee by the Veteran, 1936. CPC 1936 0109
Supplement to Pilgrimage Guidebook: Vimy and Battlefields Pilgrimage, July 1936. CPC 1936 0110
Latest Information: Official Pilgrimage to Vimy and Battlefields, July 1936. CPC 1936 0111
July 1936: Pilgrimage to the Battlefields, List of Passengers R.M.S. Ascania, July 16, 1936. CPC 1936 0112
[Unused Cunard White Star Letter Card] CPC 1936 0113
Dining Saloon Reservation: 2nd Sitting. CPC 1936 0114
[Blank Postcard Depicting the R.M.S. Alaunia] CPC 1936 0115
[Dinner Menu for the R.M.S. Alaunia on Friday, September 25, 1936] CPC 1936 0116
Accueil de la Legion canadienne en France: programme journalier et recommandations importantes = Canadian Legion welcome in France: daily programme and important warnings. CPC 1936 0117
Accueil de la Legion Canadienne en France = Canadian Legion welcome in France: membership certificate. CPC 1936 0118
Réception de la Légion Canadienne. CPC 1936 0119
4 Aout banquet: offert par la ville de Rouen en l'honeur du pélerinage en France de la légion Canadienne. CPC 1936 0120
Canadian Legion: French Invitation Party. CPC 1936 0121
Woolf, Virginia. Mr. Bennett and Mrs. Brown. London: Published by Leonard and Virginia Woolf at The Hogarth Press, Tavistock Square, 1924.
In the study of rare books and publishing the term "edition" is well defined. For example, "the whole number of copies of a work printed from the same setting of type (or from stereos or electros of that type) and issued at any time" from Glaister's Encyclopedia of the Book. Identifying first editions has become a hobby and/or career for many, and libraries continue to collect them.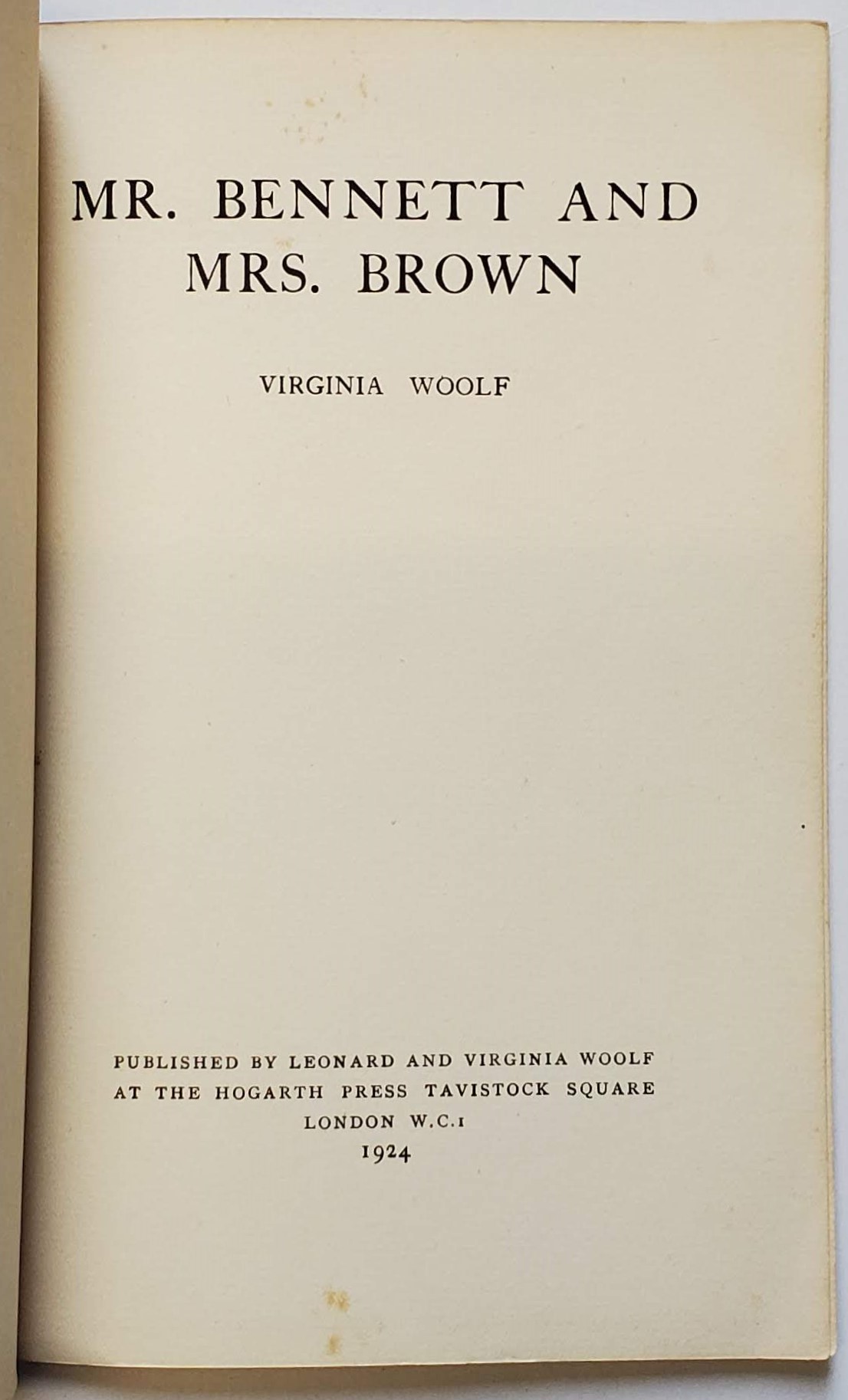 This new ASC acquisition is a first edition Virginia Woolf entitled Mr. Bennett and Mrs. Brown. It is a first edition printed by Hogarth Press (the press owned by Woolf and her husband Leonard), in 1924. Before this Woolf's ideas were read as a paper to the Heretics Society at Cambridge University, then published as the article "Character in Fiction" in The Criterion before being published by Hogarth Press on 30 October 1924. Despite the intellectual work existing prior, the Hogarth Press edition is considered the first edition of the work. It is the first edition because it is the first time the work in its then current state was published.
After knowing what a first edition is, the next frequently asked question is why do people collect them. Depending on who you ask that is often a complex and personal question. Some collect them because of their scarcity or associated value. Others just like to collect. Most commonly though the answer lies in its connection to the author. "It's the edition the author actually saw through production and the closest in time to the writing, and therefore the edition most likely to represent the author's intent."
It is with these reasons in mind that ASC has acquired this first edition Mr. Bennett and Mrs. Brown. This item complements our other Virginia Woolf first editions including Three Guineas (4782), Mrs. Dalloway (5342), and To the Lighthouse (HAS 254).
Greenwood, James. A Night in a Workhouse...: How the Poor are Treated in Lambeth! The Casual Pauper! "Old Daddy," the Nurse! the Bath! The Conversation of the Casuals! The Striped Shirt! The Swearing Club!! "Skilley" and "Toke" by Act of Parliament! The Adventures of a Young Thief! &c. &c. &c. London: F. Bowering, 21 Blackfriars Road, 1866.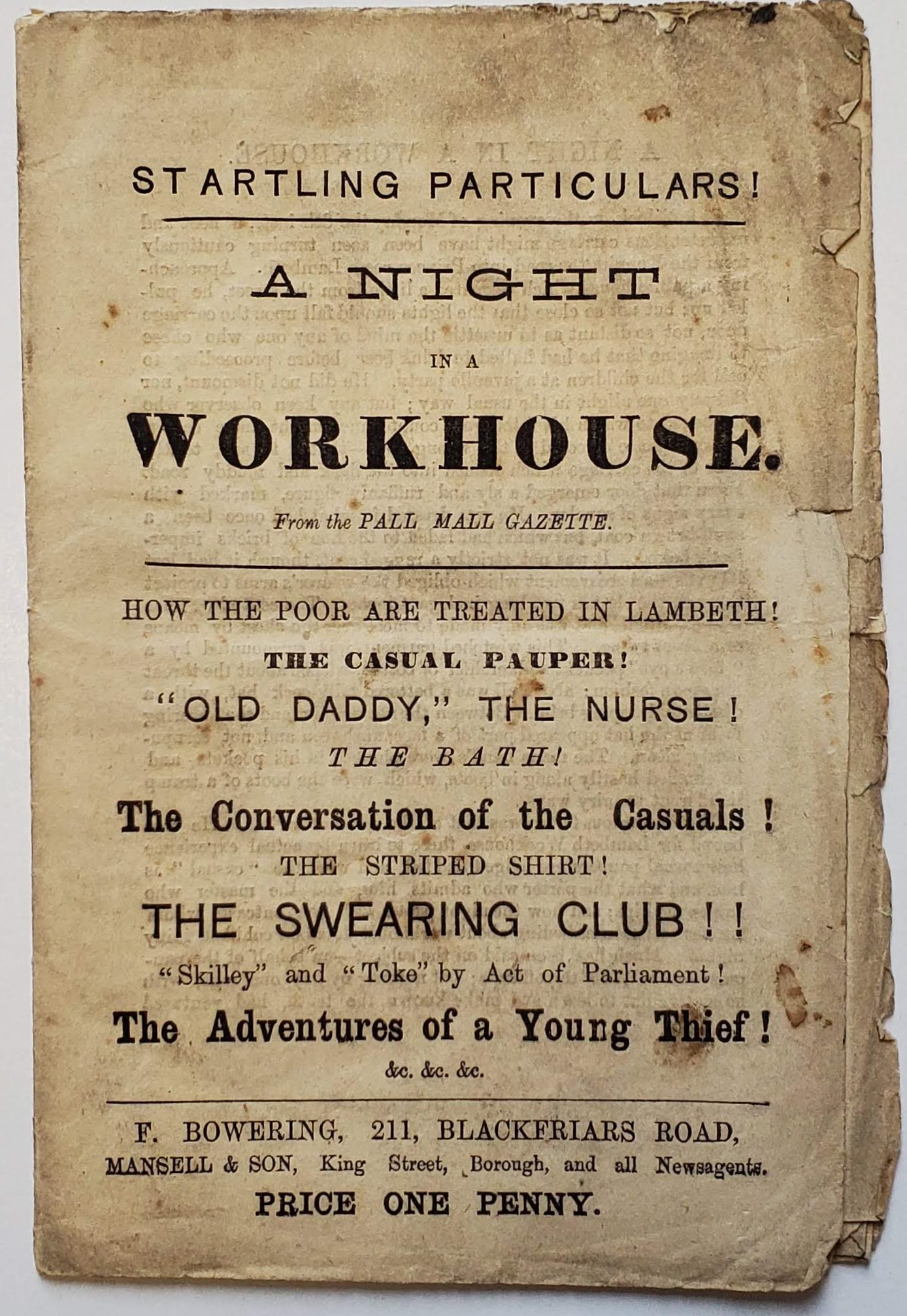 On January 12th, 1866 readers of the Pall Mall Gazette were gripped by the first installment of "A Night in a Workhouse" as it described the anonymous "Amateur Casual's" experience inside a Lambeth workhouse. The story caused a media sensation, being picked up by the Times and reprinted in over 200 newspapers across the British Isles. Three subsequent installments were quick to follow and received just as much attention, and eventually the story was reprinted as a pamphlet. The pamphlet acquired by ASC is an unauthorized copy of the Pall Mall Gazette installments.
Prompted by his editor-in-chief brother and disguised as a vagrant, the author James Greenwood and a colleague spent the night in the casual ward (meant for just short stays) of the Lambeth workhouse. While reports had been written before about the poor conditions in workhouses, this account, neither clinical nor sanitized, provided firsthand experience that oftentimes could be mistaken for a fictional narrative. This account has been widely regarded as one of the first pieces of undercover reporting and Greenwood is now seen as a trailblazer in investigative journalism.
"At one glance my appalled vision took in 30 of them-thirty men and boys stretched upon shallow pallets with but only six inches of comfortable hay between them and the stony floor."
"The Socialist Shakedown." Printed by The Peerless Printing Co., Ltd., 1945.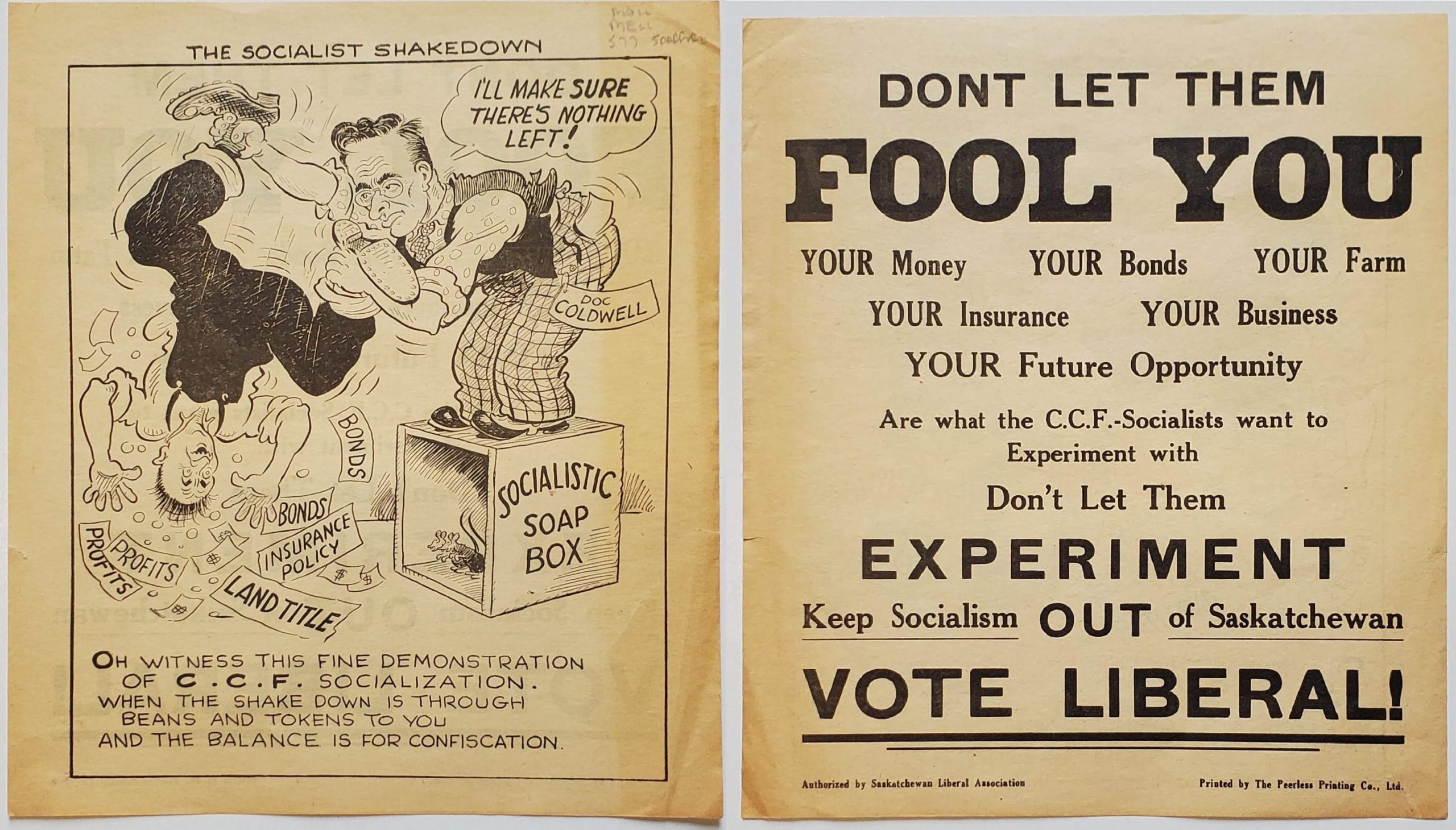 We are often used to seeing attack ads on television during our election seasons. This recent acquisition provides evidence of the history of this practice and illustrates its practice over different media. This flyer, authorized by the Saskatchewan Liberal Association, is an anti Co-operative Commonwealth Federation advertisement alleging that the CCF would take money from the Canadian people with its Socialist practices.
The Co-operative Commonwealth Federation had its foundational meeting in a Calgary legion hall on July 31, 1932 founded on the belief that capitalism was the leading cause of inequality. At its 1933 convention the party further established its political platform including universal pension, health and welfare insurance, employment insurance, a minimum wage, and farm security. Despite Canada now having many of these policies in place, at the time some thought these ideas were too close to communism. Vancouver's mayor Gerry McGeer said, "If you elect those people, they'll take away your home, they'll take away your car, and burn down your churches. Furthermore, they'll nationalize your women." That same fear is present in this flyer.
This leaflet contains a caricature of M.J. Coldwell, the leader of the federal CCF, which is one of the few ways the item can be dated. Officially becoming leader in 1942, Coldwell led the CCF through five federal elections in 1945, 1949, 1953, 1957, and 1958. It is therefore surmised that this document comes from the period between 1945 and 1958. It is often only with these inferences that an item can be catalogued as fully as possible. In 1961, after poor election results (in part because federal governments had implemented much of the party's platform), the CCF and the Canadian Labour Congress joined together to form the New Party, later the New Democratic Party (NDP).
Etiquette for Ladies: with Colored Plates. London: Frederick Warne and Co., 1874.
Last month ASC highlighted Etiquette for Gentlemen so it was only fitting to promote Etiquette for Ladies, a miniature book with advice on a variety of topics such as etiquette for dinner parties, weddings, and evening and morning parties, and advice for dress, conversation, and introductions.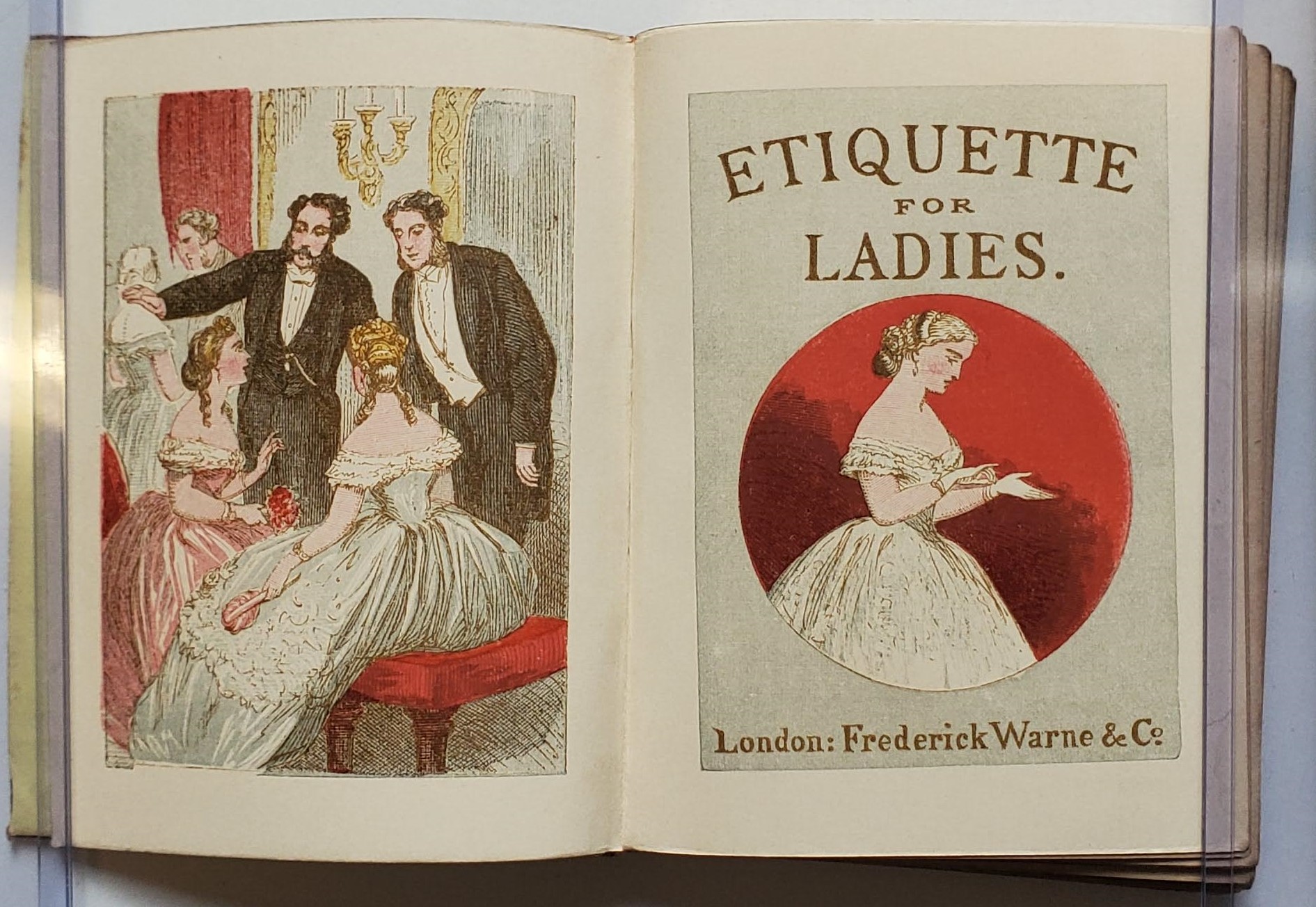 Some advice has stood the test of time:
"...never speak without thinking of what you are going to say; and never say to another that which you would resent if said to yourself." p.73-4
Most has not:
"Women are said to be great talkers naturally...we allow that woman has a greater facility of speech than man has." p. 59-60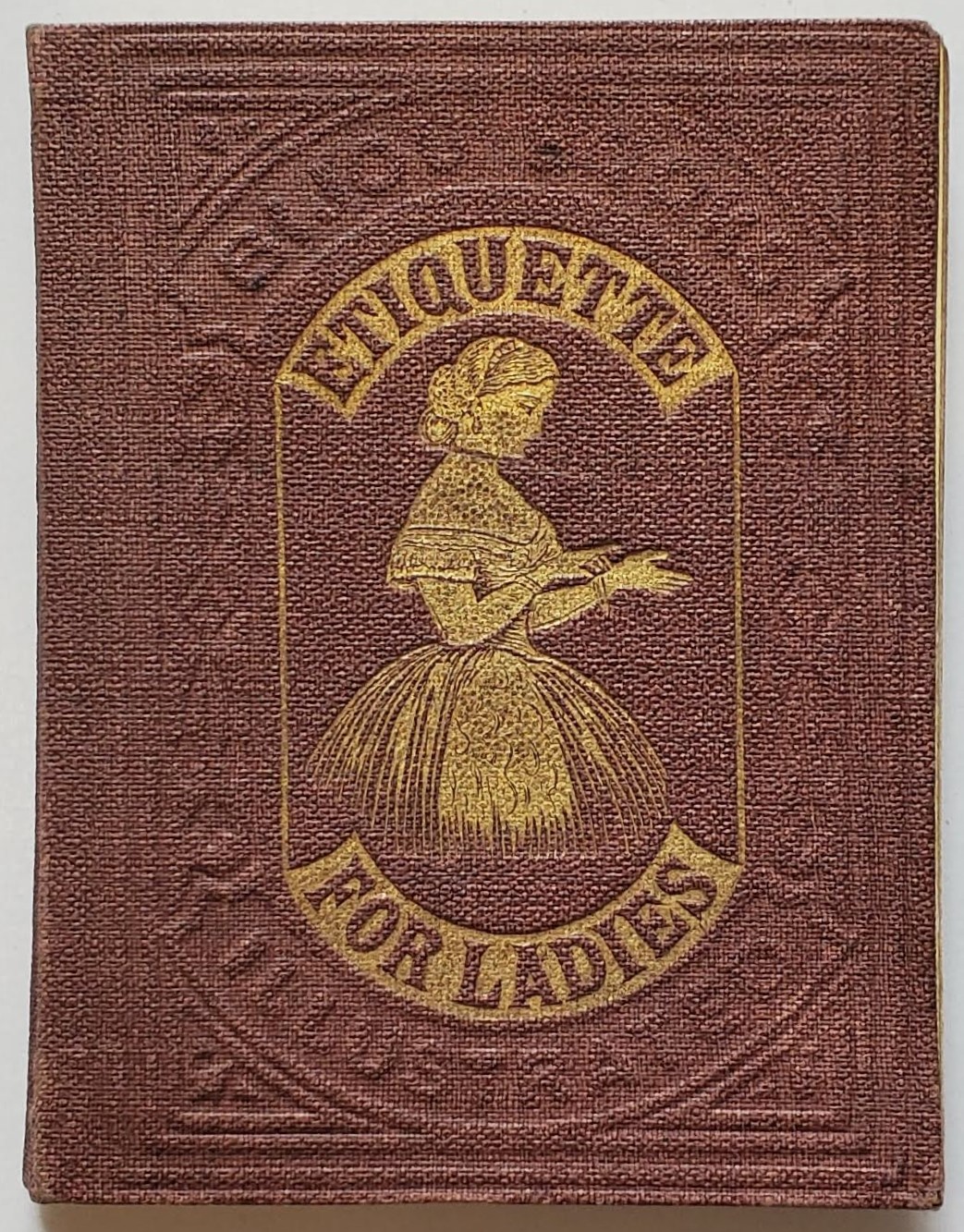 "Never wear false jewelry; it is better to be quite without ornament than to wear the trash many young ladies put on in the present day." p. 13
"Never dress above your station; it is a grievous mistake, and leads to great evils, besides being the proof of an utter want of taste." p. 14
"Do your best to be agreeable. Talk as well as you can; and at least try to appear amused." p. 71
"Flirtation is always vulgar, but it is perhaps less dangerous in a ball-room than out of one..." p. 81
By Burning Books They Hope to Kill Freedom of Thought. Canada: Distributed by the Libraries of Canada for the National War Finance Committee in support of Canada's war effort, 1940.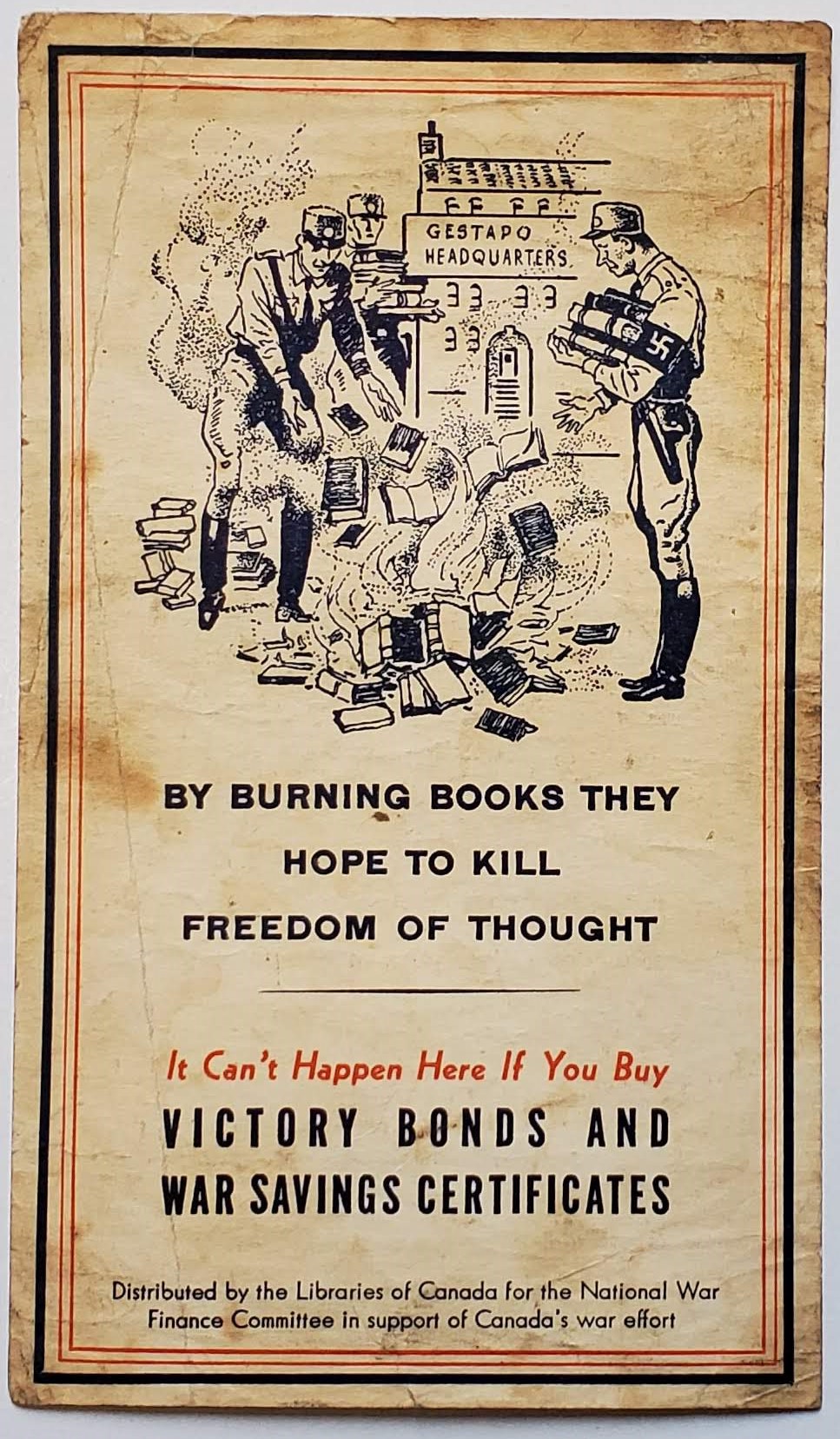 Victory loans were introduced to help Canada finance the First World War, and during the Second World War this program was continued to again ask Canadians to aid in the war effort. Nine Victory Bond campaigns between June 1941 and November 1945 generated $12 billion. This flyer was an advertisement for this program, appealing to a sense of patriotism and Canadian values.
While the advertisement is important evidence of Canada during World War II, the back is perhaps more interesting and reinforces the ephemeral nature of this document. On the back is a handwritten recipe for "Thimbel [sic] Cookies." The recipe is as follows:
Thimbel Cookies
1/2 cup shortening
1/4 cup brown sugar
1 egg yolk
1 cup pastry flour
Pinch of salt
1 spoonful of vanilla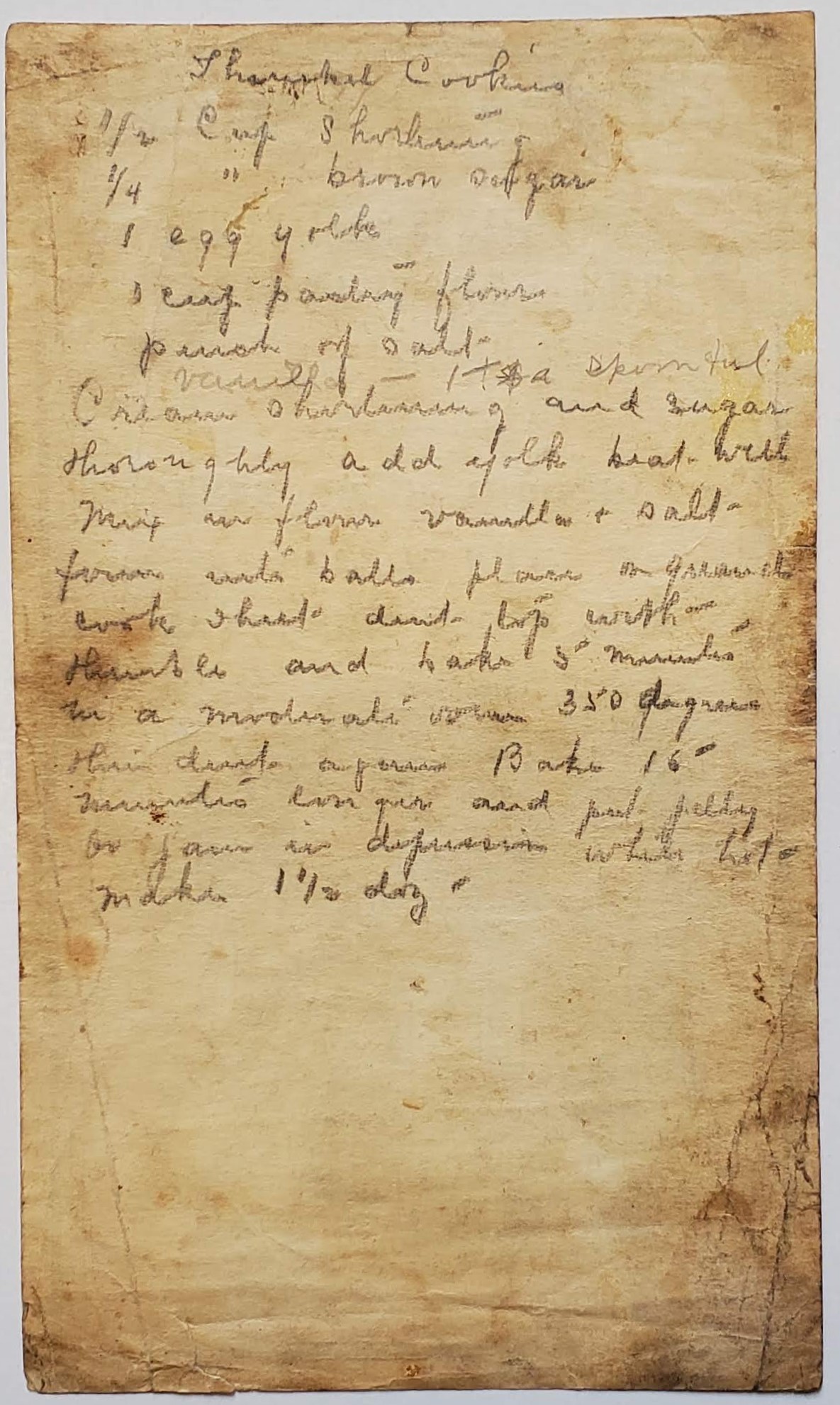 Cream shortening and sugar thoroughly.
Add egg yolk. Beat well.
Mix in flour, vanilla, and salt.
Form into balls. Flour on greased cook sheet.
Dent into with thimble and bake 5 minutes in a moderate oven 350 degrees.
Then dent again. Bake 15 minutes longer and put jelly or jam in depression while hot.
Makes 1 1/2 dozen.
Without any further examination this appears to be a fun addition to a completely unrelated document, and it is. However, recipes can give us insights into a particular moment in time. For instance, assuming this recipe is contemporary to the flyer it was written on, it could provide an example of the rationing taking place in Canada during World War II. Sugar was one of the items rationed in July 1942, along with butter in December of the same year. Many women responded to these rations by getting creative with their recipes, and a typical "War Cake" often contained no eggs, milk, or butter, and very little sugar. The egg yolk in this recipe begins to feel extravagant. But what did it taste like? There are certain things you can only know by doing. In fact, there is a whole field dedicated to this idea called experimental archaeology. In it archaeologists test their ideas about past technology and knowledge by replicated the processes used to create the items. While not on the same scale as recreating a medieval castle, recipe recreation is accessible and, at least to me, a way to engage with the past directly.
I was initially skeptical about the amount of sugar in this recipe as well as the yield in general (perhaps another indicatory of rationing), and in my case I only made 16 cookies. The shortening and brown sugar creamed together well, and while I thought it was too much flour, it did fully incorporate. I had to make decisions about salt and vanilla, a pinch became 1/8 teaspoon and with questions about how much a "spoonful" is, I went with 1/2 teaspoon.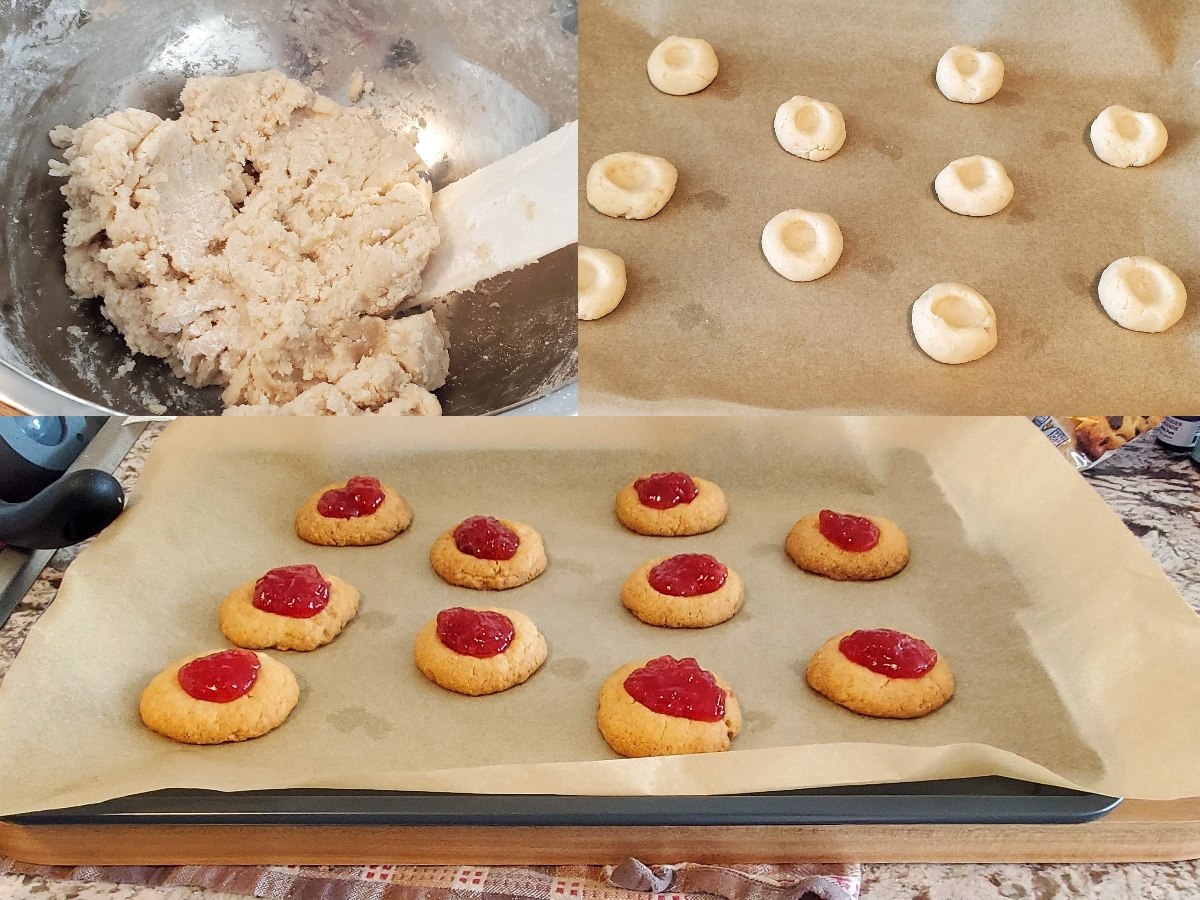 My first deviation came when I used parchment paper instead of flouring a greased cookie sheet. It was faster and less messy and I would hope the recipe writer would agree. I had a thimble in my sewing kit, washed and ready to dent, but I ended up using mostly my finger. The thimble did come in handy when I had to dent them again though, as they were not too hot to touch.
When the first batch came out, they were a little too browned for my taste so the second batch only went in for 12 minutes after the initial five. I probably overstuffed the depressions with strawberry jam, skeptical as I was about the sugar content of the cookies, but I think I made the right decision. The cookie on its own had a shortbread-like texture but was a bit bland, so with the jam it was delicious.
I found this experiment rewarding. I felt like I had insight into the creativity Canadian women had to make the best with with what they had. I also felt a connection to the way in which the recipe was written down. Half of my recipes are written on random scraps of paper I had at hand whenever I read or heard a recipe. I wonder if they are written on anything important.
If anyone is interested in trying this recipe for themselves, please send pictures to the ASC twitter @yorkuASC
Written by Taylor Tryburski
References
https://www.veterans.gc.ca/eng/remembrance/memorials/overseas/first-world-war/france/vimy/story-galleries/04_monument/05_dedicate
https://www.qbbooks.com/why_first_ed.php
Donocan, Stephen and Matthew Rubery. "Doing the Amateur Casual: Victorian Investigative Journalism and the Legacy of James Greenwood's "A Night in a Workhouse." Victorian Studies 63, no. 3 (2021): 401-430.
https://www.cbc.ca/history/EPISCONTENTSE1EP13CH3PA1LE.html
https://wartimecanada.ca/essay/eating/food-home-front-during-second-world-war