Foster, Myles Birket and Kate Greenaway. A Day in a Child's Life. London: George Routledge and Sons, Broadway, Ludgate Hill, 1881.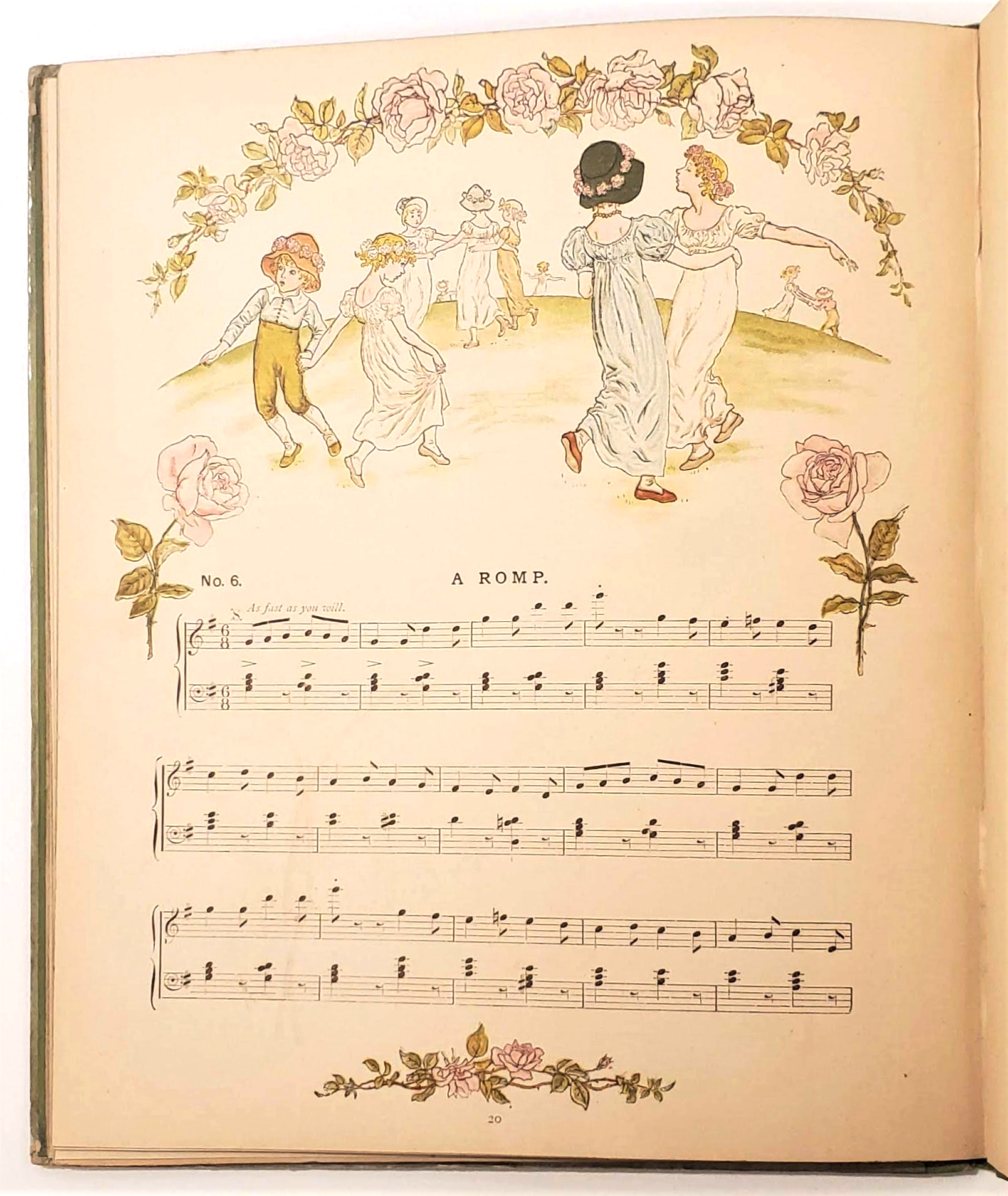 Kate Greenaway and her illustrations of children in historical dress, plain backgrounds, flowers, and coloured borders have been featured on this blog before. Her association with printer Edmund Evans and publisher George Routledge was also established in the August blog post found here. This new acquisition from ASC illustrated by Kate Greenaway features her signature style of illustrations and is published and printed by her collaborators George Routledge and Edmund Evans. The book is a selection of songs by various lyricists all accompanied by the music of Myles Birket Foster Jr. (1851-1922). Foster Jr. studied at the Royal Academy of Music and composed symphonies, overtures, children's cantatas, and church music. He was the organist for the children's home known as Foundling Hospital while also being a professor of music and a musical examiner. As well as containing his music, this particular copy of the book has other associations to Foster.
On the first page of the book it is inscribed "Margaret Ellen Glasson from Mrs. Evans, 1906." Margaret Ellen Glasson was the niece of Myles Birket Foster Jr. and the granddaughter of Myles Birket Foster Sr. (1825-1899), and illustrator and watercolourist. Foster Sr. also frequently worked with and was friends with Edmund Evans, the printer of this work. The Mrs. Evans in the inscription is likely Edmund Evans' wife, Mary Spence Brown, herself a niece Foster Sr. through his wife. This association to people related to the author and printer makes this copy unique and more attractive to collectors, including libraries.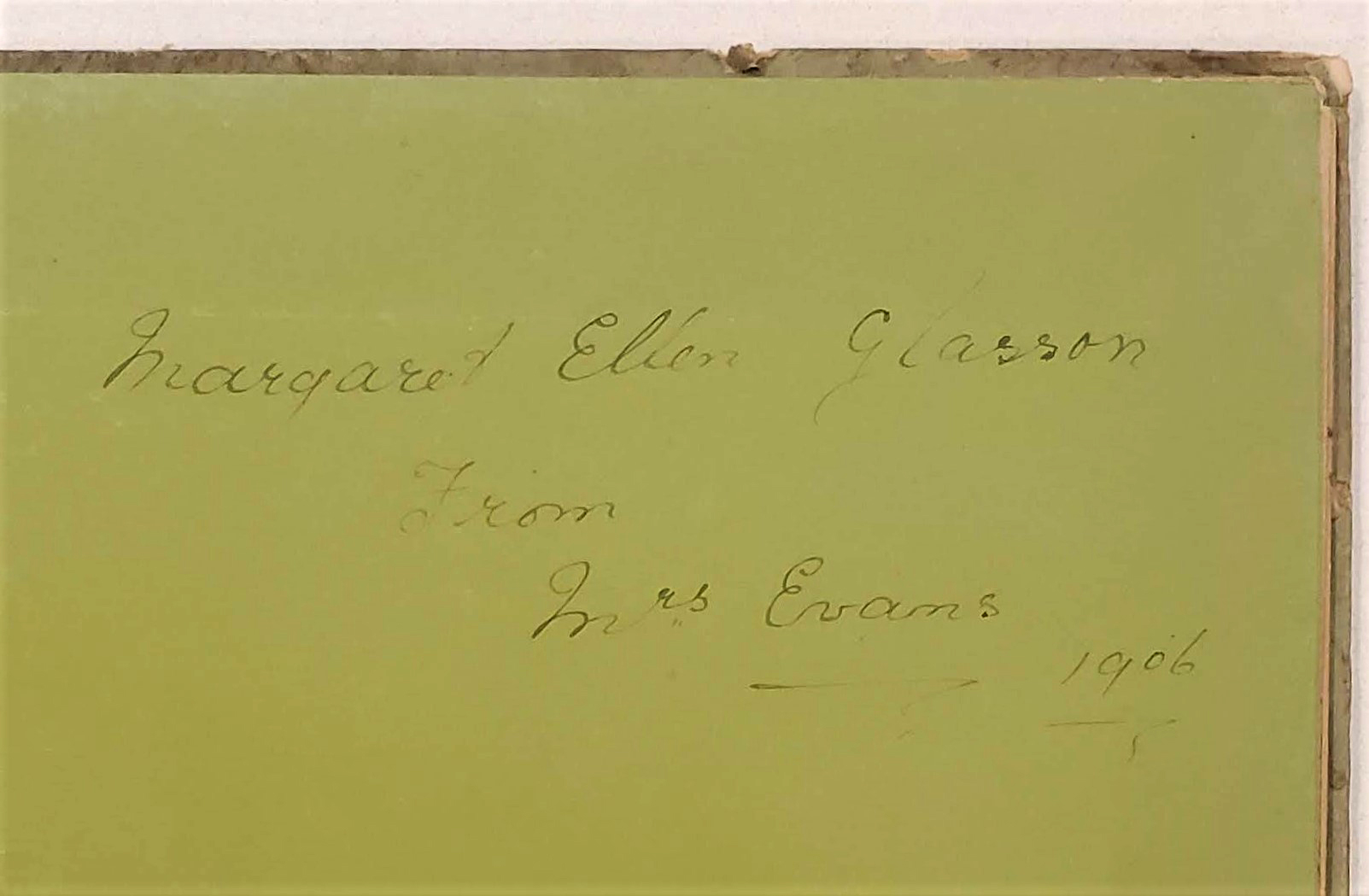 Record: CLC 2864
Tasso, Torquato. La Gerusalemme liberata. Londra [London]: Presso C. Corrall: a spesi di G. Pickering, 31 Lincoln's Inn Fields, 1822.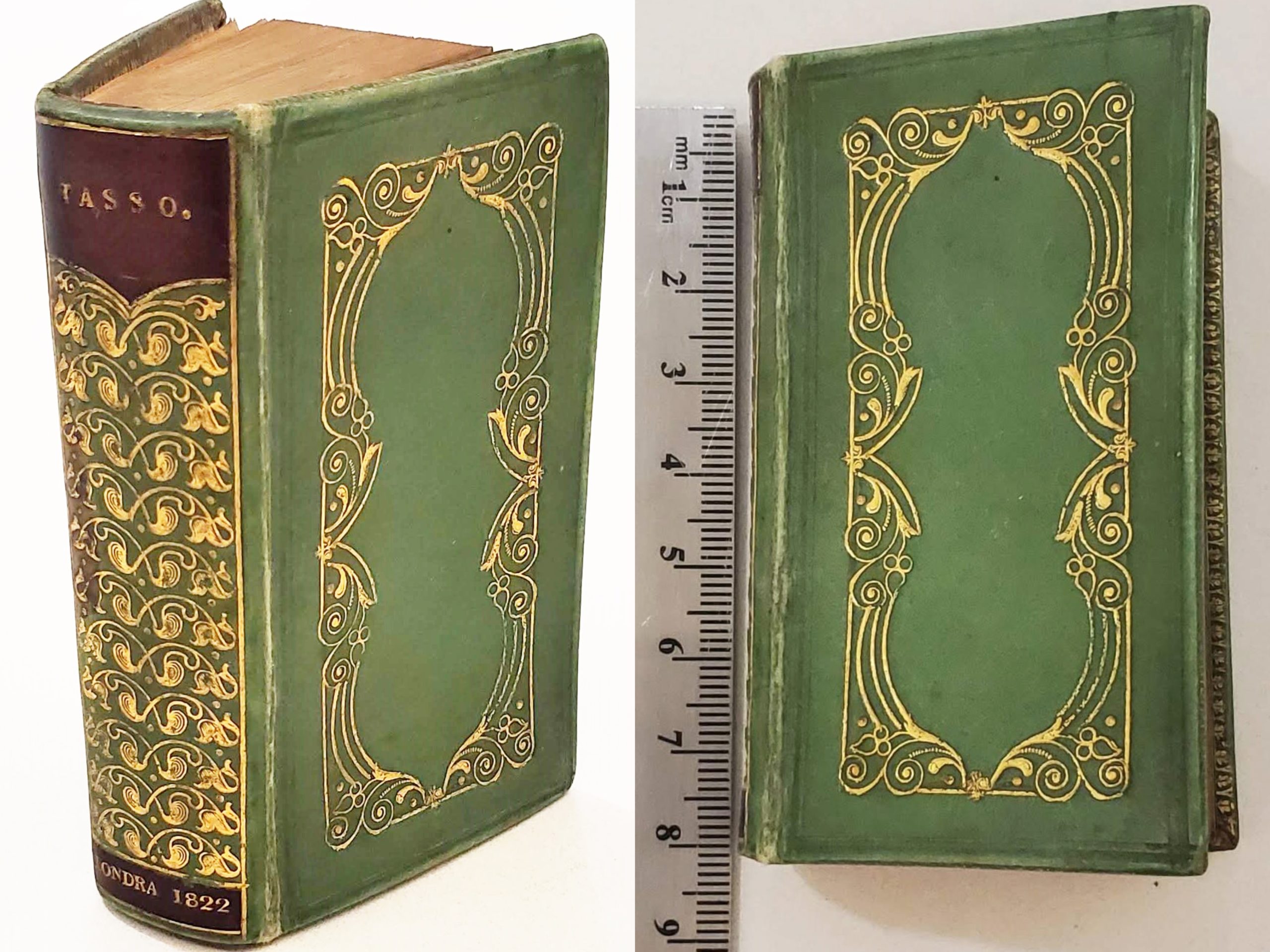 La Gerusalemme liberata, or, Jerusalem delivered is an epic poem by Torquato Tasso first published in 1581. It depicts the end of the First Crusade, specifically the army of Godfrey de Bouillon taking Jerusalem in 1099. Despite its historical setting, the poem itself largely includes fictional characters and events. This edition of Jerusalem delivered in the original Italian is part of the Diamond Classics series printed by William Pickering and measures just 81 mm. From 1821 to 1831 Pickering published the Diamond Classics featuring classical works by authors such as Shakespeare, Cicero, Virgil, Homer, Horace, and Milton. The series was so named because of the 4.5 point Diamond type that was used in its creation. The books in this series were also one of the first books to be issued in publisher's cloth bindings, meaning the publisher issued the books with a permanent binding instead of a buyer having the book bound later. However, this series was so valuable to collectors that they would often have them bound in more luxurious bindings. For example, here the original two volume set of La Gerusalemme liberata has been bound together in a single volume of green vellum with ornate gilt decoration. Binding these two volumes in one also allowed for more space for the fore-edge painting on this volume.
In the September blog post we featured a fore-edge painting of Winniped on Lives of Eminent Naturalists. To summarize, fore-edge paintings appear on the fore-edge of books when the pages are fanned but disappear when the book is closed, the edge is then typically gilded to further obscure the painting. In addition, despite the name, the painting is technically done on the outside margin of each book rather than the actual fore-edge. This fact is especially evident when the fore-edge painting is on a small page. Aptly, given the content of the poem, this fore-edge painting depicts several people overlooking the city of Jerusalem.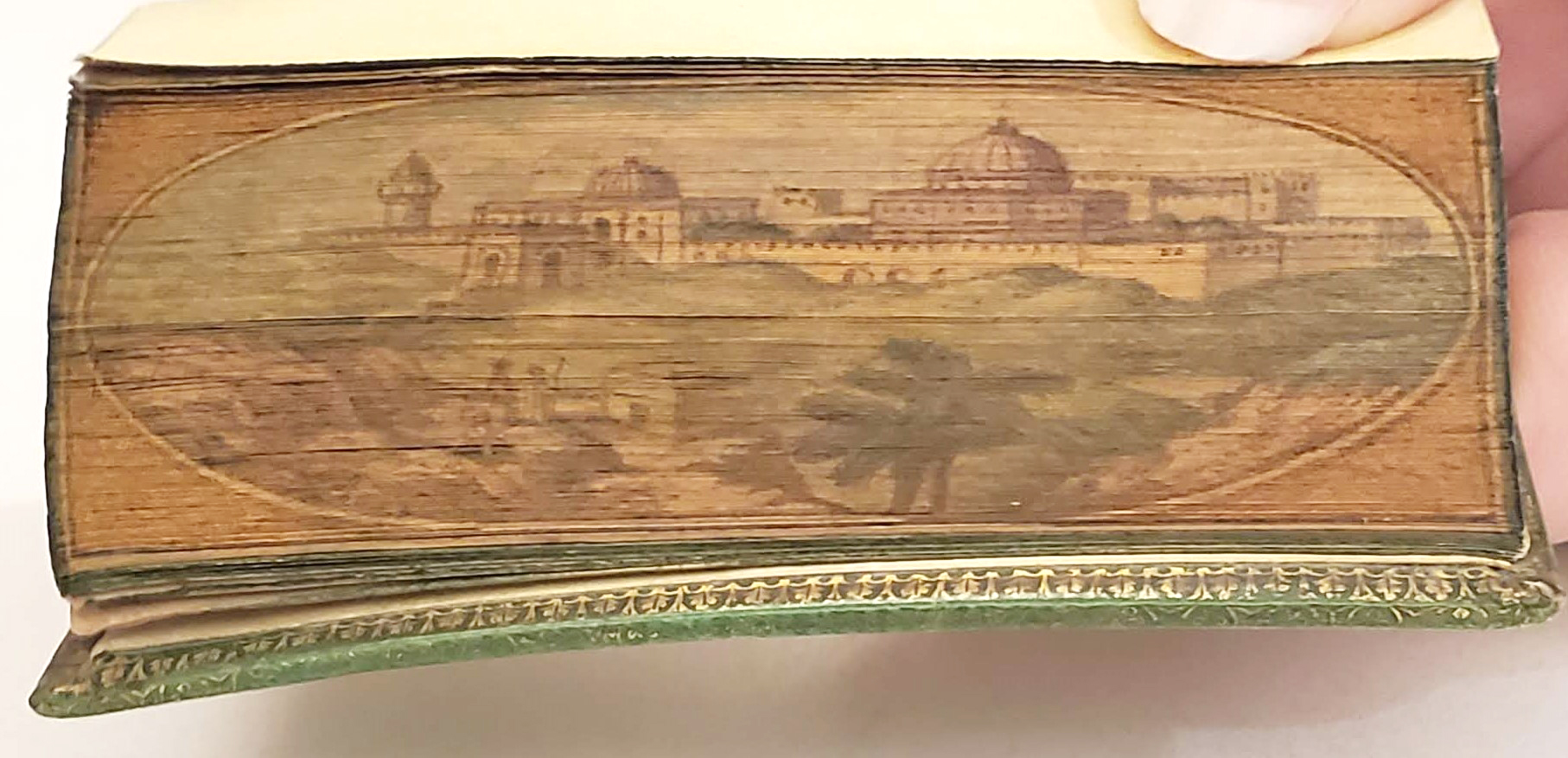 Record: MIN 0213
Gresset. Ver-vert suivi de La chartreuse, L'abbaye et autres pièces. Édition mignardise. Paris: Chez Laurent et Deberny, fondeurs en caractères, à Paris, rue des Marais-St-Germ.,17, 1855.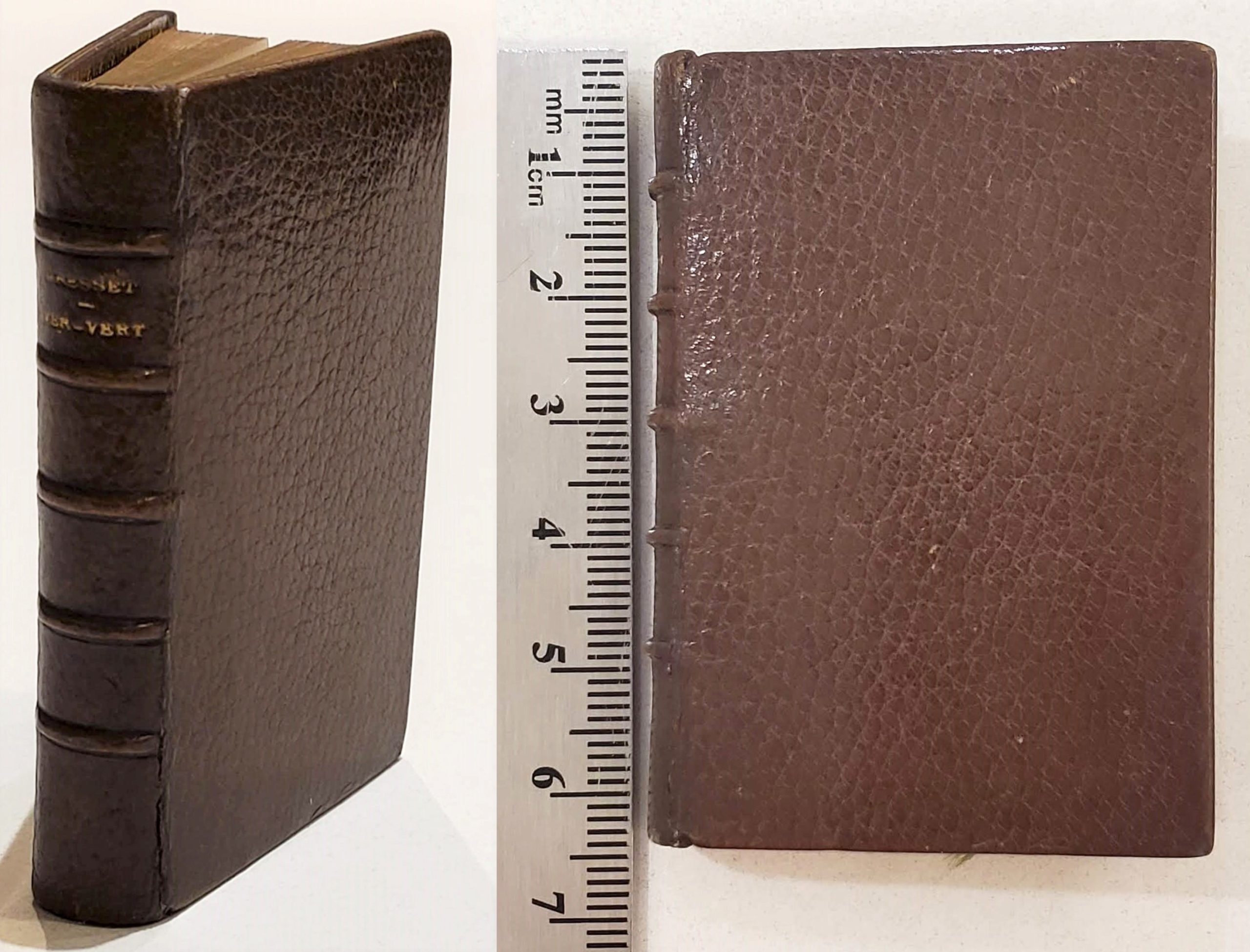 Jean-Baptiste-Louis Gresset was a poet in the Jesuit order until the secular and sometimes anti-clerical nature of his poems led him to be forced out of the order. This collection of poems includes those works, most famously Ver-vert, a satirical poem about a convent's pet parrot that is well versed in prayers and psalms. He is sent to another convent to display this but is sent back in disgrace after being taught profanities during his travels. Finally, the parrot repents and reforms before dying from his overly pampered lifestyle.
Much like La Gerusalemme liberata this book is a miniature. Based on the bookplate inside we can also see it was part of Stanley Marcus' miniature collection. Marcus, the former president and chairman of luxury retailer Neiman Marcus was an avid collector of miniature books who eventually gifted his collection to the Bridwell Library at Southern Methodist University. Miniatures of this size are clearly difficult to read, but rather than for reading, these miniature books can be seen as a challenge for all those involved in its manufacture: the punch-cutters (the first step in making type), typesetters, printers, and binders. Their existence is a testament to the skill of these craftsmen.
Another similarity to the book highlighted above is that this books also has a fore-edge painting. This painting, rather than a typical landscape, depicts three cherubs surrounded by columns and branches. Both this fore-edge painting and the one above were done by British fore-edge painter Martin Frost, who has been painting on fore-edges for almost 50 years. In fact, you can still buy books with his fore-edge paintings on his website. As he frequently paints on antique books Frost's process is somewhat different in that he often paints on books with edges that are already gilded. This adds another layer of complexity because using too much water with his paints (keeping in mind he is using watercolour) will dissolve the gold.
Record: MIN 0214
Vecellio, Cesare. Habiti antichi et moderni di tutto il mondo / Vestitus antiquorum, recentiorumque totius orbis. Translated by Sulstatius Gratilianus. In Venitia [Venice]: Appresso i Sessa, 1598.
This second edition of Cesare Vecellio's Habiti antichi et moderni contains an astonishing 505 woodcuts depicting cities and the costumes of people around the world. Each dress is accompanied by commentary in both Italian and Latin that further explains the clothing depicted as well as the geography, agriculture, diet, and customs of the places described. Divided into twelve books the first describes ancient and medieval dress before moving on to over 200 prints used to illustrate the costumes of contemporary Europe and Turkey. The book then moves on to depict the people of Asia Minor, India, East Asia, and North and sub-Saharan Africa. Added in the second edition are also 20 prints depicting the clothing of the Americas including Peru, Mexico, Virginia, and Florida. The descriptions of the people of Asia, Africa, and the Americas are ethnographic in focus, depicting the dress while also describing social customs and rituals of the people depicted. However, this information is based on second-hand reports rather than direct observation.
This book is part of a genre that emerged in the sixteenth century, costume books. In these books the clothing from all over the world worn by people of different social classes were illustrated with woodcuts or engravings for the European reader. However, we must be cautious in stating that the dress depicted illustrates the styles at the time of publication. As Ann Rosalind Jones notes in "'Worn in Venice and Throughout Italy': The Impossible Present in Cesare Vecellio's Costume Books" a printed costume book will always be out of date. Not only are the majority of woodcuts from the first edition in 1590, but by the time the information was collected, illustrations carved, the book printed and published, the styles would have already shifted based on changes in politics, culture, and geographic boundaries. In fact, Vecellio admits this himself when he says (per Jones' translation) that women change their style so often "... it's rather to be feared that even as I am describing a style, women are turning to another one, so it's impossible for me to capture it all." (141r/p.193) This shifting of styles is also evidenced by the depicted dress of the Americas shifting to incorporate elements of European style. For instance, the "Nobleman of Cuzco" wears a native cloak described as a hocala but Vecellio also notes the Spanish shift worn underneath it and indeed a shift with a ruffled collar and sleeves is visible in the woodcut. These frequent changes and the time it took to produce the work illustrates the difficulty in attempting to depict the costume of a particular region or culture at a particular time. That said, these works still give insights into regional styles and this work specifically has more breadth and gives more information than others published before it.
Record: 18683
Written by Taylor Tryburski
References
https://benbeck.co.uk/fh/fh.htm
Leach, Gerald. British Composer Profiles: a Biographical Dictionary and Chronology of Past British Composers, 1800-1989. 2nd ed. High Beeches, Gerrards Cross: British Music Society, 1989.
https://www.britannica.com/topic/Gerusalemme-liberata
https://historyofinformation.com/detail.php?id=1732
Gresset, Jean Baptiste Louis, 1709-1777. Ann Arbor: ProQuest, 2014.
https://www.foredgefrost.co.uk/the-artist
Vision and Technology. "How Fore-edge paintings are done-a masterclass." Youtube Video, 8:31. May 15, 2017. https://www.youtube.com/watch?v=0x8ihoBaDtI&t=149s&ab_channel=VisionandTechnology
Jones, Ann Rosalind. "'Worn in Venice and Throughout Italy': The Impossible Present in Cesare Vecellio's Costume Books." The Journal of Medieval and Early Modern Studies 39, no.3 (2009): 511-544.
Rosenthal, Margaret F., and Ann Rosalind Jones. The Clothing of the Renaissance World: Europe, Asia, Africa, the Americas: Cesare Vecellio's Habiti Antichi et Moderni. London: Thames & Hudson, 2008.